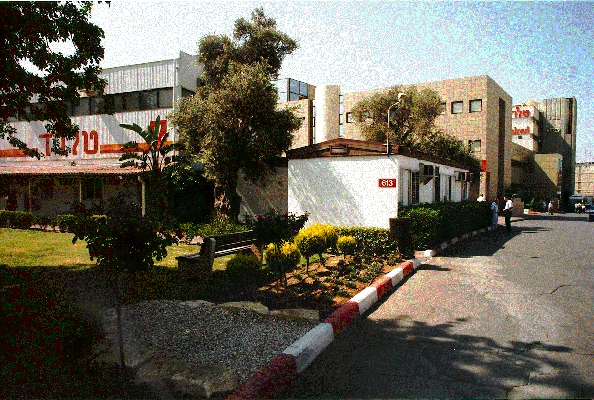 TELRAD TELECOMMUNICATION & ELECTRONIC INDUSTRIES LTD.

Address:
Industrial Zone, Lod
P.O. Box:
50 Lod 71100
Telephone Nos.:
08 -9273555, 08 -9273503
Fax:
08 -9242757
Website:
http://www.telrad.co.il
Parent Company:
TELRAD HOLDINGS LTD.
Registration Number:
51-085264-3
Activity:
marketing, development, manufactrue, export,
Classifications:

telephone answering machines - mfg.
telephone dialing devices automatic - mfg.
telephone sets - mfg.
data communication products and systems - mfg.
isdn communication - mfg.
telephone transmission - mfg.
p.a.b.x - mfg.
communications equipment - mfg.


Year Founded:
1951
Registration Year:
1980
No. of Employees:
2662
Sales:
401,000,000 $ for 1995
Export:
168,600,000 $ for 1995
Managers:

| | |
| --- | --- |
| Vice President - Finance | Oded Koritshoner |
| Chairman Of The Board | Yehuda Milo |
| Executive Vice President | Dorian Gilon |
| President & C.E.O | Bezalel Levin |
| V.P. Business Systems | Micha Ben Assa |
| V.P. Public Networks | Avi Lipsky |
| V.P. Export - " Nortel " | Hanoch Eshel |
| V.P. Data Communications | Giora Leitersdorf |

Subsidiaries:

FELIX TELECOM S.R.L. (ROMANIA)
TELRAD (U.K.) LTD.
TELRAD CHILE S.A.
TELRAD S.A.
TELRAD TELECOMMUNICATION INC. (USA)


Company Profile:

Telrad Telecommunication & Electronic Industries Ltd. is one of Israel's leading companies, and was ranked 16th among Israel's leading Industrial Enterprises by Dun & Bradstreet in 1996.

Telrad is Israel's leading telecmmunications equipment manufacturer and the major suplier to Bezeq, the national telecommunications corporation. The company also develops and produces advanced systems for the private market, and provides secure communications systems for the Israel Defense Forces.
Organizationally, the company's activities are divided into four divisions. The public Networks Division, dealing with public digital exchanges, digital remotes Switches, digital remotes Switches transmission devices and peripheral equipment; the Business Systems Division, responsible for multi-line system and PBXs of between 8 to 10,000 lines, as well as telephones and peripheral equipment; Export to Nortel Division, which provides full development and production of large scale turnkey telecommunication projects to Nortel, and data communication systems Division.
Comprehensive Product Range
The product range of Telrad's two manufacturing plants covers five main areas: electronic private exchanges capable of handling between 100 and 10,000 lines; computer- controlled, digital electronic exchanges handling up to 100,000 lines; ISDN terminals and terminal adapters; the DIGITAL KEY-BX customized multi-line telephone systems from 8 to 384 ports and the new "Fibe-World" transmission product line, designed to maintain the company's competitive edge in tomorrow's fiber optics telecommunications market.
Telrad's insistence on unvompromising quality standards, result in smooth continuum of innovative products designed to meet rapidly changing market needs.
This page was taken from:
©1997 Dun & Bradstreet Israel Ltd., All rights reserved. Credits